Heroes List
Hero Weapons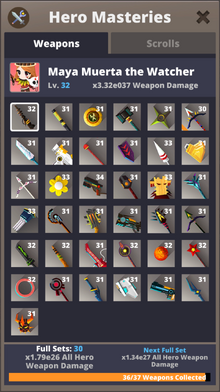 Hero weapons and Fortune weapon upgrades are collected from the Weapons Tournament, Silver and Titan Chests, Week 2, day 5 of rewards.
Hero specific weapons can appear in shop for 1-3 at a time.
Once you have a specific weapon for a certain hero, its upgrade cost milestone is free.
There are 37 weapons to collect; one for each hero. Assembling a full collection of weapons for the first time will provide a 10x damage boost to all heroes. Each consecutive weapon set will add an extra 4x bonus each time.
There are two variants of items that can be collected:
Weapon Upgrade
Will give you a random hero weapon upgrade.
Fortune Weapon
A fortune weapon will give you the hero weapon upgrade of which you have the least amount of.